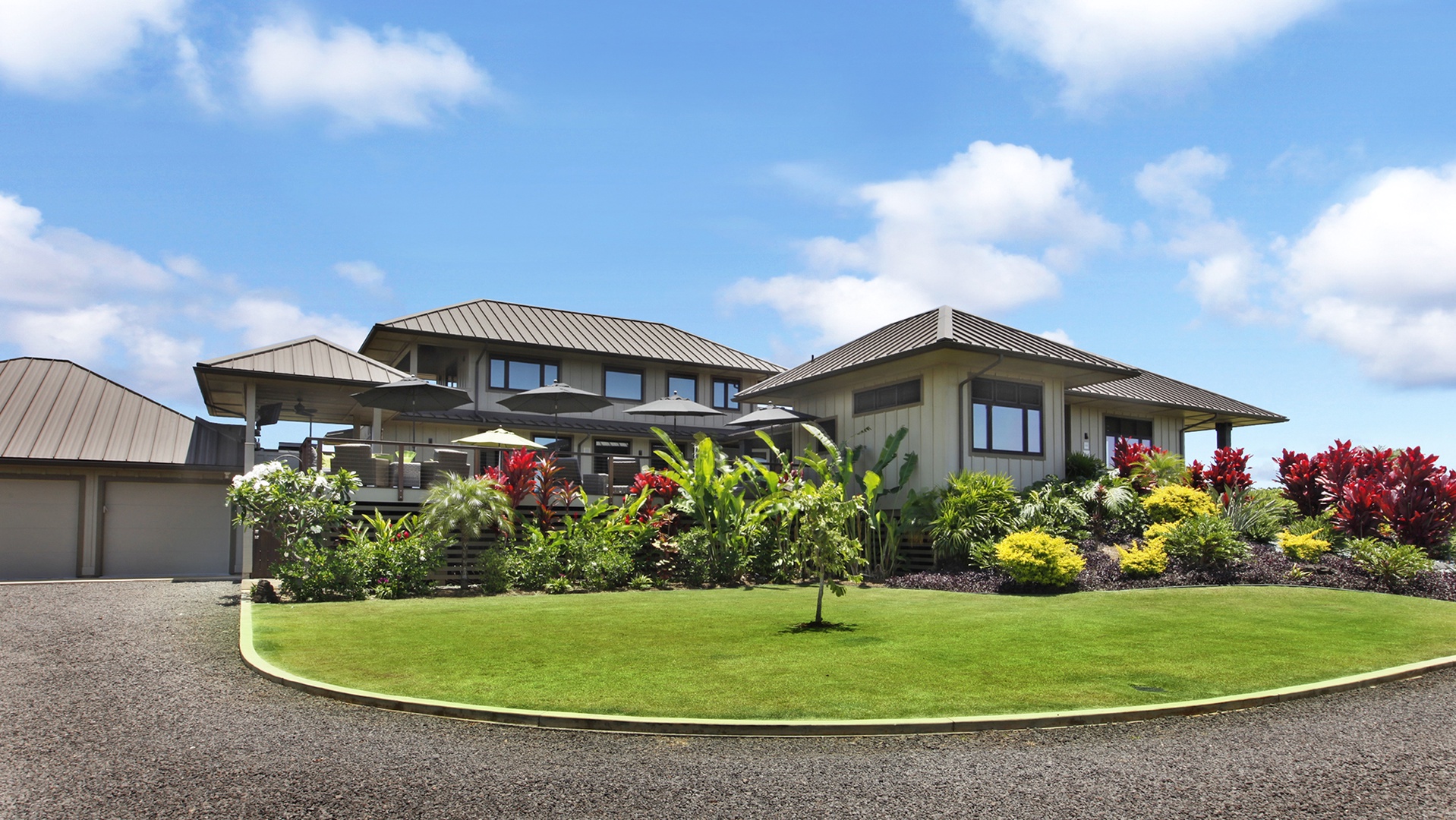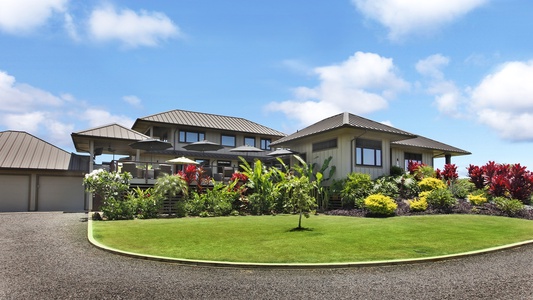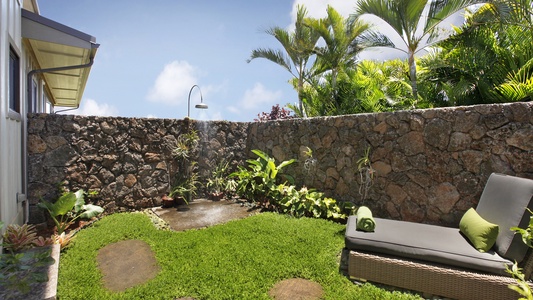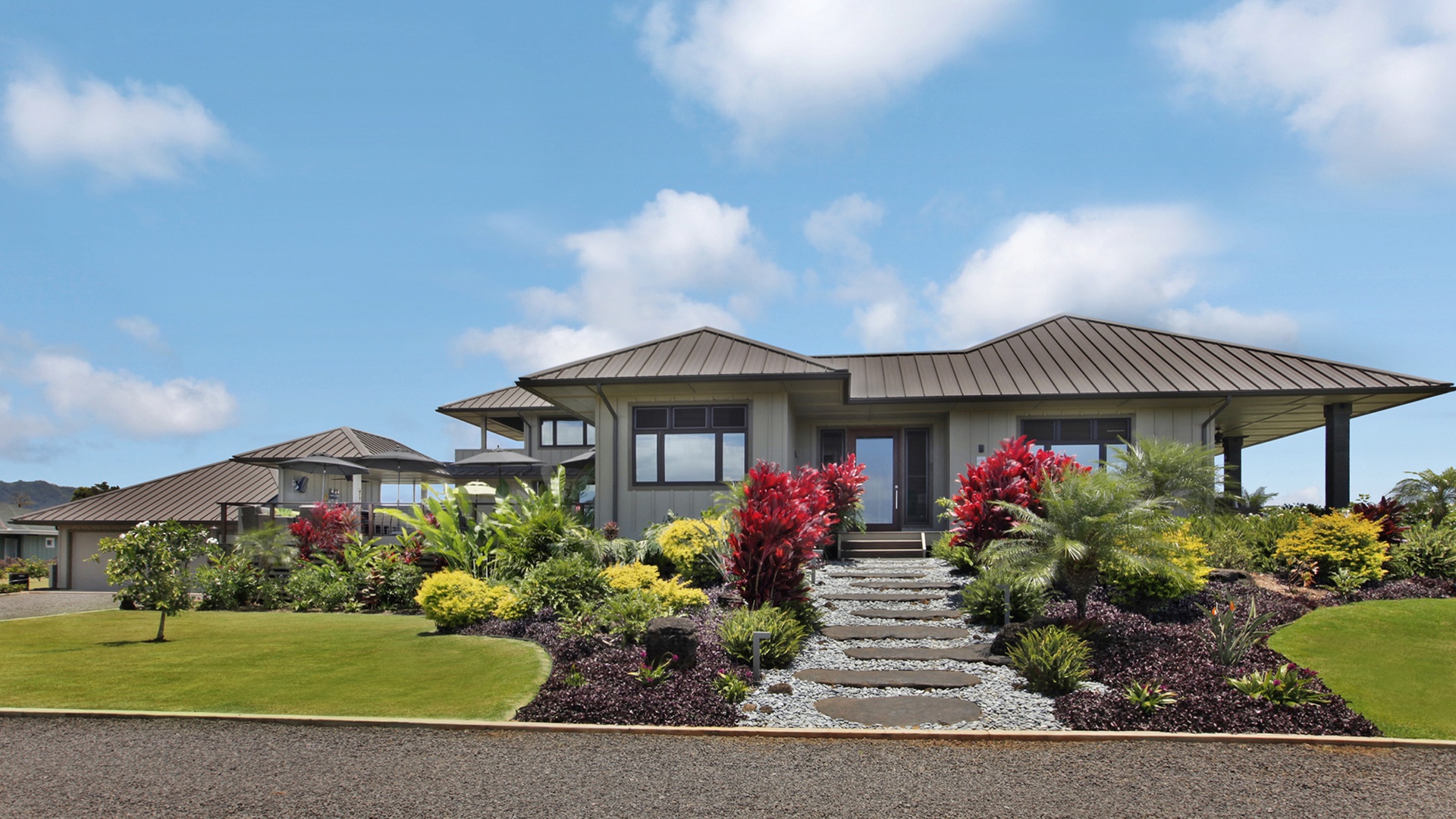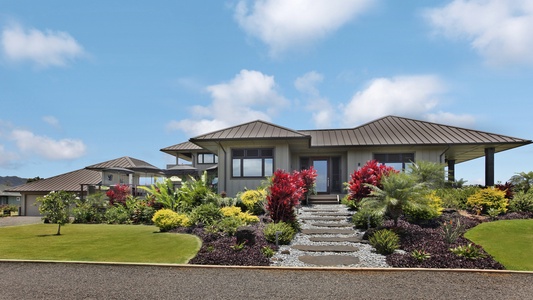 Hale Maluhia Estate at Poipu
2358 Halali'i Place , Koloa, HI 96756
Enjoy the luxury and comfort of our newest Elite home centrally located in Poipu Beach Estates. This custom home takes full advantage of many views and is also positioned to enjoy the fabulous trade wind breezes. The spacious and open great room has sliding doors that bring the outside in from both the pool deck on one side and lovely garden views on the other with great outdoor decks for enjoying the views. The gourmet kitchen is perfect for the food enthusiast and offers all the appliances for many enjoyable family meals. The outside pool bar includes an additional wet bar and gas grill for enjoying days around the pool. Beautiful Ipe hardwood flooring graces the interior floors as well as the lovely decking around the full exterior adding to the warm and comforting feel of the home.

A Parrish Kauai Elite Collection property. Each one of these luxurious accommodations is personally selected by JP Parrish for its unique vacation offerings and comes with special gifts and amenities.

The Parrish Collection is a locally owned and based real estate management company that specializes in vacation rentals on Kauai and Maui. Our collections of rentals are professionally managed by in-house staff with a commitment to personalized service, fine attention to detail and a true sense of Aloha. Our team looks forward to hosting you soon.

HOME FEATURES

• Garden, Mountain view (distant ocean view from upper level master suite bath), two-story floor plan, approximately 3,500 square feet
• AC - Bedrooms only
• Heated swimming pool, and pool deck with access to large covered living and dining area
• Interior Rating: Premier Plus
• 4 Bedrooms, 4.5 Bathrooms
• Master Suite – Upper Level, king bed, AC, TV, access to private mountain view lanai and private full bath with walk-in shower and access to private ocean view sundeck
• Second Master Suite – First floor, king bed, AC, TV, private full bath with separate tub and walk-in shower, access to outdoor private garden shower
• Third Guest Suite – First floor, bunk bed with twin bed on top and full bed on bottom , AC, TV, full bathroom with walk-in shower
• Fourth Guest Suite – First floor, king bed, AC, TV, full bathroom with walk-in shower
• Great room design with indoor/outdoor living room, flat screen TV/DVD, sonos sound system
• Gourmet kitchen with stainless steel appliances, gas stove and breakfast bar, TV
• Spacious covered outdoor lanai with additional dinner seating and outside pool bar with TV
• Executive office and additional TV family room with AC and queen sofa sleeper
• Guest powder room
• Additional outdoor shower (hot & cold) near pool entry
• Ceiling fans throughout the home
• Wireless High Speed Internet
• Separate laundry room with Washer & Dryer
• Private telephone
• Driveway parking
• Access to the Poipu Beach Athletic Club (pool, fitness center, tennis, game room, restaurant and more)
• Mid-stay maid service included with stays of eight nights or more
• TA-156-383-4368-01
• GE-156-383-4368-01
Dryer
Garden or Backyard
Washer
Free Parking
Beach Essentials
Wireless Internet
Air Conditioning
Pool
Mountain View
Ocean View
Water View
Private Pool
Ground Floor Entry
Two Level Floor Plan
Driveway
Thank you for submitting your review. It will be processed shortly!
Best of Koloa
This was one of the most beautiful vacation rentals that we have stayed in to date! The bedrooms had all the amenities that you could ask for. Kitchen was fully stocked with everything that you would need. Beautiful flowers and trees on the property in a quiet cul-de-sac. Pool with bar for entertaining. Short walk to the beach or for coffee. Can't wait to go back! Mahalo!
Mahalo Sheri for your thoughtful 5-star review. We are so happy that you enjoyed the home and had such a lovely stay. We are already looking forward to hosting you again
Family Vacation
The property was amazing and fit our family of five extremely well!!!! The house was beautiful and conveniently located to shops and restaurants. We would definitely stay again.
Mahalo Stacey for your five-star review and comments. We are so happy your ohana all had the space to relax and enjoy their stay. We are already looking forward to hosting you again soon.
Steve, Kentfield, CA says
A special property and our family had a wonderful week.
Our rental house was perfect beyond our dreams. Each person in our party of seven commented that the photos online did not do the house justice. We enjoyed the ease of moving indoor and outdoors seamlessly because of the beautiful pocket/sliding doors on both sides of the main living room area. We had the most peaceful relaxing time. Everything we needed from bikes to pool toys to cookware was readily available.
This is a beautiful home that is well maintained and conveniently located to beaches, dining, and shopping. We had a very enjoyable time with our family of 8 and will hopefully be returning for another stay. Highly recommended!
Amazing Stay
We had an amazing stay at the Hale Maluhia Estate at Poipu. The house was a perfect size for our family visit. There were plenty of places within the house to hang out, and we spent time each night hanging out on the large lawn area watching the sunset. We had a few small maintenance items and the team was very responsive and friendly. We really enjoyed the pool area - it was perfect with a 2 & 5 year old. Plenty of places to walk or drive to for shopping, eating and the beach. Thank you JP Parrish for all the services such as grocery shopping, the recommendations and the lovely welcome gift. We definitely will be back
Mahalo Sharon for your review and comments. It was a pleasure to host you and we look forward to hosting you again. A hui hou
Absolutely beautiful home with an incredible private pool. The beach is across the street and you have full access to the club amenities. We did not have air conditioning as the listing states but that may be remedied by the time the next visitors arrive.
This house and the service provided Parrish was outstanding. It made our family vacation so much fun, we enjoyed everything about the house, the pool, the beaches and the entire island. Thank you ??
Great place for 8
We had two families of four, and we never felt cramped in this spacious house. Our favorite part was opening up the wide doors on both ends to let the wind sweep through.
Lovely house, perfect for our family, close enough to the beach and other activities.
Tovi, Santa Barbara, CA says
This home in Poipu was pretty special. Family enjoyed the pool and comfortable living room. Coffee in the morning outside on the patio was superb. The lot was huge and kids enjoyed running around outside. Did not enjoy not being able to check-in until 4:47pm. We we there waiting outside the house for an hour and it was not finished and ready for us. This was tough as we were exhausted from our travel. Also, owner did not seem to have a correct sense of what was in the house. We were told that they did not have a Pack n Play, beach toys, or umbrellas, etc and were informed we have to rent them, which we arranged. Then, upon arrival, they DID have all those things. I'm glad they did, and they should, but I had already rented the items, so it was poor communication which cost us. It did not dampen the overall experience though, as besides that the house was excellent.
Mahalo Tovi for your review and feedback. It is great to hear how much your ohana enjoyed the home during your stay. Our apologies for the delayed check-in, we always do our best, and this time we missed the mark. We understand how that can be frustrating after a long day of travel. We did mention that sometimes guests leave behind beach gear but we only guarantee beach chairs and a cooler. We are happy that it didn't affect your stay and that you had a great time at the home. We look forward to hosting you again soon. Mahalo
Wow!
The home was perfect for our multi-generational family to spend a relaxing week's vacation. Our grandkids loved the pool and huge, park-like yard. Parrish provided so much more than we were expecting, making us feel truly welcomed. The amenities were great: they have everything you need, including snorkel gear, beach cruiser bikes (and helmets!), croquet set, pool toys, beach toys, beach chairs and umbrellas, an ice chest, and the pool bar has an ice maker to keep that ice chest cold for day trips to sightsee all the great things Kauai has to offer! This is the perfect, "roll in, toss on your swimsuit and head to the beach" house. It has everything!
Mahalo Jean for your five-star review and comments. We look forward to hosting you and your ohana agian soon.
Christmas/New Years vacation
Beautiful, spacious home and lovely grounds/landscaping. Lots of privacy, natural light and wonderful breezes with the huge accordion window wall and patio doors open. The pictures are nice, but it is even better in person.
Beautiful Home
This home is very nicely designed with many features and extras including the pool (which is incorporated in the flow of the home versus just being in the back yard); several decks and private sitting areas with comfy furniture, open flow plan with kitchen, dining, entertaining all connected, spacious bathrooms, and more. It was also well stocked with dishes, small appliances, cooking utensils, appliances, etc. The only issue was there were several items that needed maintenance (deck screws popping up, doors not locking, handles broken, etc) and many surfaces required cleaning.. The saltwater pool was nice, especially the umbrella in the shallow portion where you could place beach chairs and watch football games while enjoying a mai tai, beer, etc. Overall, it was a very nice experience and would return again.
Ivor, Los Angeles, CA says
This place is beyond amazing and the energy is great. Quiet neighborhood so don't be loud!
Family vacation
The property was beautiful. The pictures do not do it justice. We enjoyed the spacious front porch. The kitchen is fully stock with all the glasses, plates, pans, etc. The pool was perfect. The garage contained all kinds of water toys. There were 5 chairs for the beach. You can easily walk to the beach. We couldn\'t have found a more accommodating house! The only down side is finding a place to eat. You will need to make reservations 2 to 3 days in advance. Be patient, all businesses are desperate for help. When you arrive in Lihue, stop at Safeway or Costco and stock up on food, coffee and snacks. Frozen pizzas are ideal. Calling for take out food from a restaurant is frustrating if not impossible.
Beautiful home with all the extras!!!
Very relaxing home with great amenities. Would definitely rent again!!
Excellent
TV in the downstairs master bedroom stopped working. Not a big deal. Mostly an annoyance.
Mahalo Conrad for your 5-star review, comments and continued loyalty. We apologize on the TV, please know it has since been corrected. We look forward to hosting you again next year. Aloha
Beautiful property and in a great location. Very private.
Property was better than advertised. Integrating all necessary forms into the checkout process and eliminating manual forms would be better. I'd like to receive the check-in instructions or a phone call the day before, not the day of. The checkout process was not ideal. Needing to stop by the office on the way out of town is inconvenient. Have a lock box on the home or let the guest leave the keys on the counter and lock up.
Mahalo Joel for your five star review and comments. I am glad to hear you enjoyed the property. On our documents, all are done via Doc-u-Sign, so are not manual unless requested. We do email directions, etc. when you make the reservation as well as a few days before your arrival and of course we have our APP which has it available whenever you need it. We are sorry for any confusion. For you next trip, we can arrange for a remote check-out. Just let us know. Aloha
Parrish made it very easy
Christie made our check, stay and check out very easy. The property made it very easy for us to relax and enjoy our family. Very comfortable and close to beach, shops and places to eat.
Great house to entertain and accommodate a large family or group.
The whole experience was great! It was our first time to Hawaii. The gift basket and Mi Tia's were a great start. The home and the easy access to some great beaches. This house is amazing and it was in a good location for us. The best beach home my family has ever rented. Everything was top notch.
Mahalo Joseph for your review and comments. It was a pleasure hosting you for your first trip to Hawaii and we hope to see you again soon. A hui hou.
Christy met us at the house and she was very helpful. Also there was a lady at the office right around the corner from the house who made a boat tour reservation for us. She was very helpful and now I have forgotten her name. We enjoyed everything about the house.
More beautiful than the pictures
This home is exactly as described and more. The pictures don't do it justice. Absolutely gorgeous with top notch amenities. The location is great with beautiful ocean view from top floor. Because we were out and about with island activities, we didn't enjoy the property as much as possible. We were always excited to get back 'home' from a long day hiking, sight seeing, etc. We enjoyed the pool and provided pool floats nearly every evening. The Parrish property conceierge, Christie, was readily available and provided an informative review of the home when we arrived. Thank you for sharing this lovely home.
Outstanding service and attention to detail. Made experience memorable.
Tremendous family home. Lots of room and entertainment space. High quality. Christie kept in touch during stay. Made sure the property was well staged, including mai-tais at check in. Would be interested in knowing if this property comes on the market for sale. Would keep it in the Parrish collection rental. Would consider purchasing.
Mahalo Ken for your review and comments. Should the home ever come up for sale, I will email you. In any event, we look forward to hosting you again soon.
Parrish is a trusted brand for us.
We have thoroughly enjoyed our vacations on Kauai and our Parrish rental homes have been a big part of why we love the island so much. Parrish is a trusted company for us. We know we are renting quality homes that will elevate our experience on the island. The booking process online was easy and follow up emails from the Parrish staff was prompt and friendly. We had an Island Host meet us at our (Elite) property. Our rental home was even more beautiful than the pictures. Christie was very friendly and helpful and made our first moments in the home welcoming. We look forward to planning our next visit! Mahalo and Aloha.
Mahalo Jenna for your 5-star review, comments and most of all, continued loyalty. We appreciate it very much and look forward to hosting you again soon. Aloha & a hui hou.
Clean and new, better than expected. Also a great location
Natalie was extremely professional and helpful when we checked in. It was great that she met us at the house to check us in and provide such a warm welcome to the island.
Quick and easy
Robin in reservations, she was the best and the reason I will return if I go back. Door locks were a little hard to lock, hot water heater at the condo was small for multiple units. There was no hot water at certain times.
Mahalo Jared for your review as well as the heads up on the locks and hot water. We will be sure to address both to ensure all is well. Aloha
September 2023
S
M
T
W
T
F
S
01
02
03
04
05
06
07
08
09
10
11
12
13
14
15
16
17
18
19
20
21
22
23
24
25
26
27

$1295

28

$1295

29
30
October 2023
S
M
T
W
T
F
S
01
02
03
04
05
06
07

$1495

08

$1495

09
10
11
12
13
14

$1495

15

$1495

16

$1495

17

$1495

18

$1495

19
20
21
22
23
24
25
26
27
28
29
30

$1495

31

$1295
November 2023
S
M
T
W
T
F
S
01

$1295

02

$1295

03

$1295

04
05
06
07
08
09
10

$1295

11

$1295

12

$1295

13

$1295

14

$1295

15

$1295

16

$1295

17

$1795

18

$1795

19

$1795

20
21
22
23
24
25
26

$1795

27

$1295

28
29
30
December 2023
S
M
T
W
T
F
S
01
02
03
04

$1295

05

$1295

06

$1295

07

$1295

08
09
10
11
12
13
14
15
16

$1495

17

$1495

18
19
20
21
22
23
24
25
26

$1795

27

$1795

28
29
30
31
January 2024
S
M
T
W
T
F
S
01
02
03
04
05
06
07
08
09
10
11
12
13
14
15
16
17

$1495

18

$1495

19
20
21
22
23
24
25
26
27
28
29
30
31
February 2024

| S | M | T | W | T | F | S |
| --- | --- | --- | --- | --- | --- | --- |
| | | | | 01 | 02 | 03 |
| 04 | 05 | 06 | 07 | 08 | 09 | 10 |
| 11 | 12 | 13 | 14 | 15 | 16 | 17 |
| 18 | 19 | 20 | 21 | 22 | 23 | 24 |
| 25 | 26 | 27 | 28 | 29 | | |
March 2024
S
M
T
W
T
F
S
01
02
03
04
05
06
07
08
09
10
11

$1495

12

$1495

13

$1495

14
15
16
17
18
19
20
21
22
23
24

$1495

25

$1495

26

$1495

27

$1495

28
29
30
31
April 2024
S
M
T
W
T
F
S
01

$1495

02

$1495

03

$1495

04

$1495

05

$1495

06

$1495

07

$1495

08

$1495

09

$1495

10

$1495

11

$1495

12

$1495

13

$1495

14

$1495

15

$1495

16

$1495

17

$1495

18

$1495

19

$1495

20

$1495

21

$1495

22

$1495

23

$1495

24

$1495

25

$1495

26

$1495

27

$1495

28

$1495

29

$1495

30

$1495
May 2024
S
M
T
W
T
F
S
01

$1495

02

$1495

03

$1495

04

$1495

05

$1495

06

$1495

07

$1495

08

$1495

09

$1495

10

$1495

11

$1495

12

$1495

13

$1495

14

$1495

15

$1495

16

$1495

17

$1495

18

$1495

19

$1495

20

$1495

21

$1495

22

$1495

23

$1495

24

$1495

25

$1495

26

$1495

27

$1495

28

$1495

29

$1495

30

$1495

31
June 2024
S
M
T
W
T
F
S
01
02
03
04
05
06
07

$1495

08

$1495

09

$1495

10

$1495

11

$1495

12

$1495

13

$1495

14

$1495

15

$1495

16

$1495

17

$1495

18

$1495

19

$1495

20

$1495

21

$1495

22

$1495

23

$1495

24

$1495

25

$1495

26

$1495

27

$1495

28

$1495

29

$1495

30
July 2024
S
M
T
W
T
F
S
01
02
03
04
05
06

$1495

07

$1495

08

$1495

09

$1495

10

$1495

11

$1495

12

$1495

13

$1495

14

$1495

15

$1495

16

$1495

17

$1495

18

$1495

19

$1495

20

$1495

21

$1495

22

$1495

23

$1495

24

$1495

25

$1495

26

$1495

27

$1495

28

$1495

29

$1495

30

$1495

31

$1495
August 2024
S
M
T
W
T
F
S
01

$1495

02

$1495

03

$1495

04

$1495

05

$1495

06

$1495

07

$1495

08

$1495

09

$1495

10

$1495

11

$1495

12

$1495

13

$1495

14

$1495

15

$1495

16

$1495

17

$1495

18

$1495

19

$1495

20

$1495

21

$1495

22

$1495

23

$1495

24

$1495

25

$1495

26

$1495

27

$1495

28

$1495

29

$1495

30

$1495

31

$1495
September 2024
S
M
T
W
T
F
S
01

$1495

02

$1495

03

$1495

04

$1495

05

$1495

06

$1495

07

$1495

08

$1495

09

$1495

10

$1495

11

$1495

12

$1495

13

$1495

14

$1495

15

$1495

16

$1495

17

$1495

18

$1495

19

$1495

20

$1495

21

$1495

22

$1495

23

$1495

24

$1495

25
26
27
28
29
30
Available
Unavailable
Check-In Only
Check-Out Only